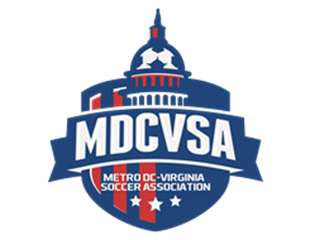 IMPORTANT WAIVER, POLICY AND INSURANCE INFORMATION
In consideration of being allowed to participate in any way with the Metropolitan DC Virginia Soccer Association, Inc , I the undersigned, acknowledge, appreciate and agree that:
1. I have read and agree to this release, assumption of risk agreement, and additional terms and disclaimers, and I recognize that I am giving up substantial rights by agreeing/signing.


2. Prior to participation, I will inspect the facilities and equipment to be used and, if I believe that any condition is unsafe, I will immediately advise my coach and the match official of such condition and refuse to participate.


3. I understand the nature and limitations of the supplemental insurance coverage provided through the registration fee and agree to assume all additional responsibility for hazards incurred in the conduct of activities as well as transportation to and from activities.


4. I acknowledge and fully understand that I will be engaging in activities that involve risk of serious injury, including permanent disability and death, and severe social and economic losses that might result not only from my own actions, but from the action, inactions and negligence of others, the rules of play, the condition of the premises or field, and any equipment used. I accept full responsibly for my participation and the damages following any injury, permanent disability, or death, or the injuries that I may cause others.


5. There may be risks that are not known to the RELEASEES (defined in Section 6) that are not reasonably foreseeable at this time. I KNOWINGLY AND FREELY ASSUME ALL OF THE FOREGOING RISKS, both known and unknown, even if arising from the negligence of the RELEASEES;


6. I release, waive, discharge, and covenant not to sue the United States Soccer Federation (USSF), the U.S. Adult Soccer Association (USSF), the MDCVSA, its affiliated leagues, its affiliated clubs, and all of their respective municipalities, administrators, directors, officers, agents, coaches, and other employees of the organization, other participants, volunteers, referees, sponsoring agencies, sponsors, advertisers and, if applicable, owners and lessors of premises used to conduct the event, all of which may be referred to together as RELEASEES, from all demands, losses or damages on account of injury, including death or damage to property, that are caused or alleged to be caused, in whole or in part, by the negligence of the RELEASEES or otherwise, to the maximum extent permitted by law.

7. I agree to abide by all the rules, regulations, policies and decisions of the USSF, the USASA, the MDCVSA, and the affiliated league in which I participate, and I agree to accept any disciplinary action taken by any of those organizations.

8. I understand that a photograph of my likeness may be requested and used on a Membership Card, or may taken during MDCVSA sponsored events and games by MDCVSA affiliated photographers, and may be published through various MDCVSA affiliated media without compensation of any kind.


9. I agree that the Membership Card is non-transferable and is the sole property of the MDCVSA, and that as a result of a disciplinary suspension, my name, date of birth, and a photograph of my likeness may be posted on the MDCVSA website.

10. I agree that the MDCVSA and/or the league may each require proof of identification.

11. I agree that registration with the MDCVSA does not guarantee placement with a league or a team, as there may be additional requirements of the individual league or team.


I HAVE READ THIS RELEASE OF LIABILITY AND ASSUMPTION OF RISK AGREEMENT. I FULLY UNDERSTAND ITS TERMS, AND I UNDERSTAND THAT I HAVE GIVEN UP SUBSTANTIAL RIGHTS BY SIGNING IT, AND I SIGN IT FREELY AND VOLUNTARILY WITHOUT ANY INDUCEMENT.


__________________________________________________________________________


Insurance Coverage
The MDCVSA currently provides Participant Accident Insurance (secondary coverage) to leagues that purchase it. Participant Accident Insurance generally covers medical expenses
(within limits) for injuries sustained during sanctioned amateur soccer activities. Participant Accident Insurance is secondary coverage to a members primary insurance. If no primary
insurance exists, then this becomes their primary insurance coverage. The Insurance carrier asks that Claims be filed within 30 days of the date of the injury, but may
sometimes allow up to 60 days from the date of the incident for the claim to be received. Please follow the directions on the claim form posted at the MDCVSA web site carefully so that the form can be processed correctly. *

FOR PARENTS/GUARDIANS OF PARTICIPANTS OF MINORITY AGE(UNDER AGE 18 AT TIME OF REGISTRATION)

This is to certify that I, as parent/guardian with legal responsibility for this participant, do consent and agree to his/her release as provided above of all the Releasees, and, for myself, my heirs, assigns, and next of kin, I release and agree to indemnify and hold harmless the Releasees from any and all liabilities incident to my minor child's involvement or participation in these programs as provided above, EVEN IF ARISING FROM THE NEGLIGENCE OF THE RELEASEES, to the fullest extent permitted by law.